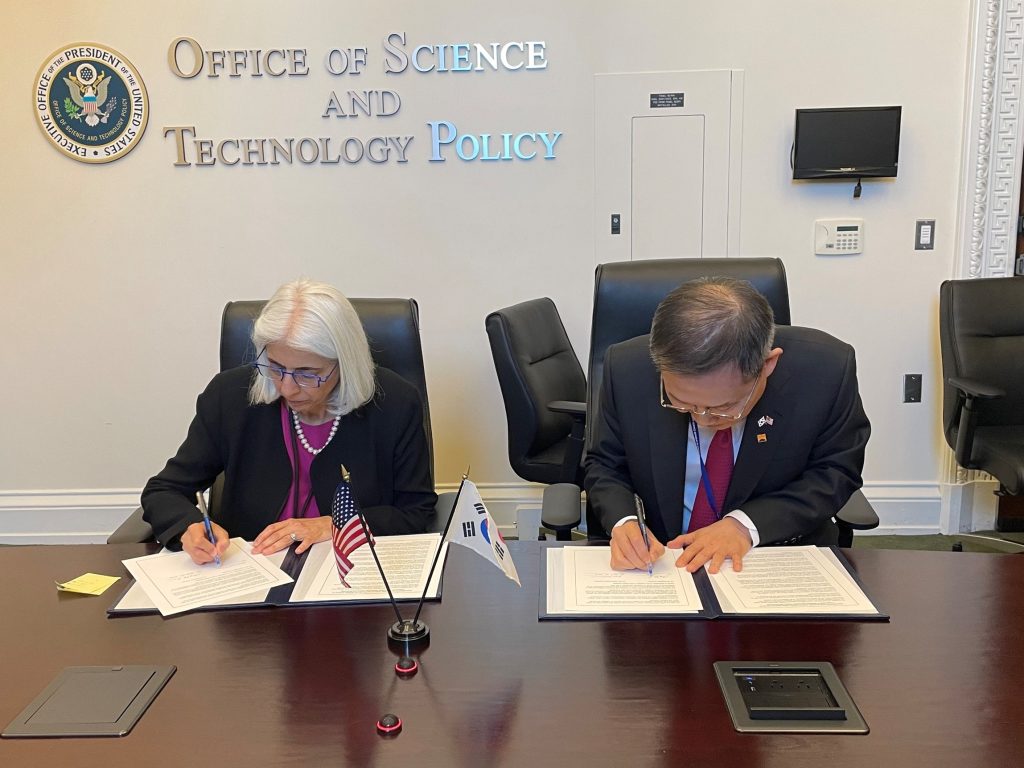 On April 25, 2023, the United States and Republic of Korea signed a Joint Statement on Cooperation in Quantum Information Science and Technology (QIST) in Washington, DC. The signing took place as part of a broader state visit between ROK President Yoon Suk Yeol and U.S. President Joe Biden in Washington.
Last May, President Biden visited President Yoon in Seoul, marking the earliest meeting in a ROK President's term in office with the President of the United States. At this meeting, the two Presidents agreed in a joint statement to "enhance public and private cooperation to protect and promote critical and emerging technologies, including … quantum technology." They also affirmed "their active support for people-to-people exchanges between experts in these fields."
The signing of the quantum cooperation statement is a major step to fulfilling the vision set forth by Presidents Biden and Yoon. Another key step took place on World Quantum Day on April 14, when the Republic of Korea joined the Entanglement Exchange, a portal for international exchange opportunities in quantum information science, of which the United States is a founding member.
Dr. Arati Prabhakar, Director of the White House Office of Science and Technology Policy (OSTP) and Chief Science Advisor to President Biden, signed the joint statement for the United States. "Quantum information science is a fertile area of research that has the potential to unlock exciting discoveries and innovations," said Prabhakar. "We look forward to working with the Republic of Korea to advance the field."
Dr. Lee Jong-ho, Minister for Science and Information and Communication Technologies (ICT), signed the joint statement for the Republic of Korea. "This year marks the 70th anniversary of the Korea-US alliance, and we consider it particularly meaningful to sign a joint statement on quantum technology during this state visit," said Minister Lee, "I hope we further enhance our value-sharing partnership by accelerating joint research and expert exchanges in the field of quantum science and technology."
The United States and Republic of Korea have recognized the importance of QIST and have been increasing their investments in recent years. In the United States, roughly a quarter century of sustained investment in QIST led to the launch of the National Quantum Initiative in 2018, which approximately doubled U.S. Federal Government investment QIST. In the Republic of Korea, funding for QIST has accelerated as part of a commitment of roughly $1 billion over eight years, including funding for joint research centers in the US and EU.
Dr. Charles Tahan, Assistant Director for Quantum Information Science at the White House Office of Science and Technology Policy, and Director of the National Quantum Coordination Office, said, "Today's quantum cooperation statement and the recent expansion of the Entanglement Exchange play critical roles in facilitating collaborations between our nations, leveraging our strengths to address the most pressing issues in QIST, such as advancing scientific frontiers, building the global supply chain, and developing talent."
Dr. Yoonchae Cheong, Director of the Korea-US Quantum Technology Cooperation Center, said "Korea and the United States, which have been strong partners for many years, are now taking new steps to pioneer this new technology together. Cooperation between the two countries will undoubtedly create great synergies and open a wonderful future through quantum science and technology."