WORLD QUANTUM DAY
Tell us what you are doing!
World Quantum Day is coming up! What are you doing to celebrate?  Let us know if you or your institution will be planning public events, press releases, social media, or other activities that highlight World Quantum Day. We may post examples received before March 31, 2022.
Have you been hearing about quantum computing and are curious what it is, but don't know where to start? Or are you an educator wondering how to get more involved? Then come join the world to celebrate quantum day on April 14th, 2022 using #WorldQuantumDay.  World Quantum Day is an international, community driven event to spark interest and generate enthusiasm for quantum mechanics.  Whether you are new to quantum concepts, a teacher looking for educational materials, or a professional wanting to get more involved, there are resources for you!
A goal of World Quantum Day is to promote public awareness of the positive impact quantum science has had and will have on society. The celebration will take place every year on April 14 with events across the globe. The National Quantum Coordination Office is excited to participate in #WorldQuantumDay – advancing quantum awareness, and encouraging community members to consider how they can participate in World Quantum Day activities.
Why Quantum, Why Now? All matter is made up of atoms and particles which are described by the laws of quantum mechanics, giving insight into the very building blocks of the world around us. In addition, quantum mechanics has contributed to revolutionary technological advancements over the last century that are integrated into our daily lives.  For example, semiconductor chips in our smartphones and computers operate in part using quantum mechanics. LASERS, LED lights, and LED monitors were developed based on our understanding of quantum mechanics. The Global Position System (GPS) that helps us navigate the world relies on the quantum mechanics of ultra-precise atomic clocks.  Magnetic Resonance Imaging (MRI) scanners in hospitals use quantum mechanics. Future technologies such as quantum computers, quantum sensors, and quantum communication devices may offer new and disruptive applications as well.
As we get closer to World Quantum Day we will be adding some new content of our own including:
Come back here as we get closer to April 14th to see these updates and read about new ways to participate and learn about quantum.
WAYS TO ENGAGE
Below are some ideas for how you can participate in World Quantum Day on April 14, 2022.
If you have a great idea let us know here.
Video: This is Quantum
This is Quantum is a marquee video made by the Q-12 Education Partnership for World Quantum Day. It features the Acting Science Advisor to the President Francis Collins and Deputy NASA Administrator Pamela Melroy.
Graphics, Backgrounds, and Images
Here are some graphics, backgrounds, and images of federally-funded quantum research, which you are free to use with appropriate citations.
Planck's Constant Infographic
April 14th was chosen for World Quantum Day because of Planck's constant, a very important number in quantum mechanics. NIST created an infographic about Planck's constant, which you are free to share:
For a combined version of the infographic, click here.
Factsheet about the National Quantum Initiative
The National Quantum Initiative is a whole-of-government approach to ensuring American leadership in QIS. This website, quantum.gov, is a part of it! In celebration of World Quantum Day, we created a factsheet about the National Quantum Initiative: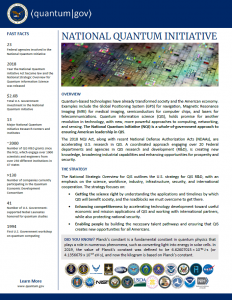 Download Factsheet
Social Media
Federal agencies are posting about #WorldQuantumDay on social media. We are collecting some of them here.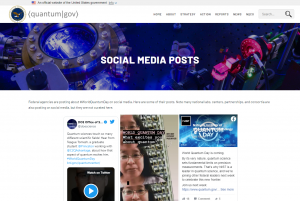 Everyone
Use #WorldQuantumDay to find other videos and articles.
Participate in an event, such as a lecture or science cafe. See worldquantumday.org for a list of international events or to submit your own.
Share on social media using the hashtag #WorldQuantumDay.
More opportunities to come, stay tuned.
Teachers

Have your class join a virtual, public event.
Teach a short lesson on quantum science, by signing up for QuanTime. The activities are designed for K-12 and are a fun way to introduce middle and high school students to quantum information science.
Come back here on before April 14th to learn about additional opportunities to engage.
Students
Ask your teacher to do something for World Quantum Day. Suggest educational activities at q12education.org or by going to QuanTime.
Think about how your daily life is improved using developments enabled by our understanding of quantum mechanics. Share on social media using #WorldQuantumDay.
Science Communicators and Journalists, and Content Creators
You may have previously published content about quantum mechanics, quantum information science, or quantum scientists. While new content is welcome, highlighting previous published content on World Quantum Day is an easy way to participate. Some methods to do this include:
Consider making new content that highlights some of the core concepts of QIS or discussing a cool technology enabled by quantum science.
Highlight quantum content on your home page, social media feed or channel. Consider making a curated best of playlist for learning about quantum, and tag them by learning level.
Write an article about World Quantum Day that provides links to curated prior quantum content.
Share quantum content on social media using #WorldQuantumDay.
Create a special banner or doodle for World Quantum Day.
Note "quantum content" includes content about the actual science and content about the quantum scientists and their diverse careers. Communicators should strive to avoid language like "spooky" and "weird" and instead focus on how students can connect and learn about quantum.
Universities, Corporations, and National Laboratories
One university is hosting a poster competition with over 20 posters about quantum information science and engineering, and it is also hosting laboratory tours.
World Quantum Day is an opportunity to highlight some of the quantum research at your organization. Some ideas include:
Issue a press release highlighting some of the quantum research at your organization.
Issue a press release highlighting some of the people doing quantum research at your organization.
Post quantum-themed content on your home page.
Share information about careers in quantum.
Encourage your team to engage in World Quantum Day.
Organizations are also encouraged to host events
Organize a public event, either in-person or virtual, about quantum science and/or careers.
Host virtual lab tours and post photos.
Advertise your events on worldquantumday.org.
Quantum Information Scientists
Encourage your colleagues around the world to participate in World Quantum Day.
Encourage your organization to participate using the above ideas, and volunteer as an organizer or event speaker.
Make a short video introducing yourself, what you do, how you got into quantum information science, etc. Post to social media on or around April 14 and use the hashtag #WorldQuantumDay.