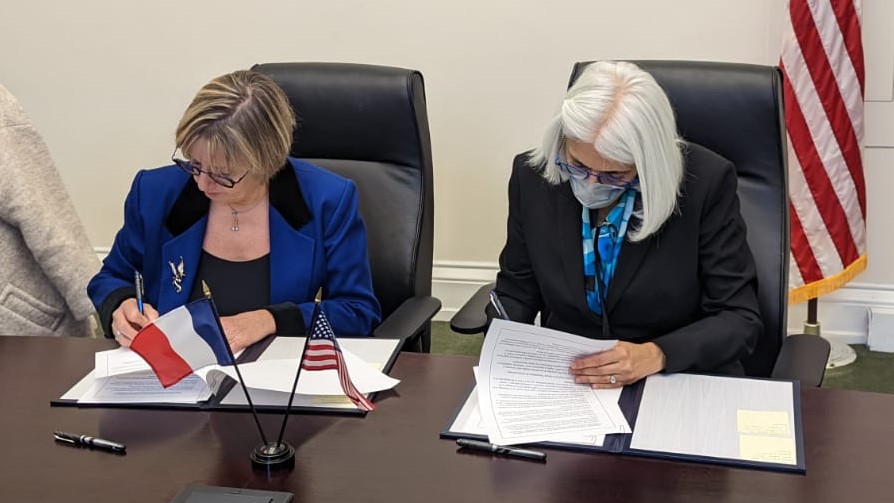 (November 30, 2022) Today, the United States and France signed a Joint Statement on Cooperation in Quantum Information Science and Technology (QIST) in Washington, DC. The signing took place during a broader visit between French President Emmanuel Macron and U.S. President Joe Biden in Washington—the first State Visit of the Biden-Harris Administration.
The new quantum cooperation statement builds upon several agreements to enhance U.S.-France cooperation in science and technology, including an Agreement on Science and Technology Cooperation that was signed in Paris in October 2018, and a 2021 Joint Statement on Science and Technology Cooperation that explicitly named quantum information science as an area where both sides endorsed continued research cooperation.
Dr. Arati Prabhakar, Director of the White House Office of Science and Technology Policy (OSTP) and Chief Science Advisor to President Biden, signed the joint statement for the United States. "The potential for quantum information science and technology to address pressing scientific questions for the benefit of humanity are endless," said Prabhakar. "This statement shows a commitment between the United States and France to work together to reach our shared quantum goals, grounded in our shared principles."
Dr. Sylvie Retailleau, Minister for Higher Education and Research, signed the joint statement for France. "The United States and France share the belief that Quantum Information Science and Technology will change deeply many sectors of our economy" said Retailleau. "This statement underlines our willingness to work towards common goals based on shared values."
The United States and France have recognized the potential for QIST to transform many areas of science and technology through the development of quantum computers, quantum networks, and quantum sensors which will offer new capabilities over traditional devices. Potentially solving some of the most pressing scientific problems, large scale quantum computers may also have the ability to crack current cryptographic protocols. The United States and France have been working together, along with international partners, to develop standards for new cryptographic algorithms that will be secure against attacks from future quantum computers.
Dr. Charles Tahan, Assistant Director for Quantum Information Science at the White House Office of Science and Technology Policy, and Director of the National Quantum Coordination Office, said, "Solving the hard questions in quantum information science, while also building the global market and supply chain needed to translate quantum technologies from lab to market, will require connections and collaborations between our ecosystems, which this joint statement will facilitate."
Dr. Neil Abroug, Head of the French National Quantum Strategy at the Secretary General for Investment, said "Developing useful and robust quantum technologies faces very challenging scientific, technological, economic and organizational questions to be answered, such that no single country seems to have the ability to solve it on its own. We need to identify complementarities and collaborate with our partners to reach the critical mass to address these challenges. This joint statement will facilitate cooperation between between American and French ecosystems."
Following the signing, individuals from both nations with equities in QIST met to discuss next steps. Participants agreed that a joint workshop to bring together quantum researchers from both countries would be beneficial to expedite the formation of scientific collaborations.