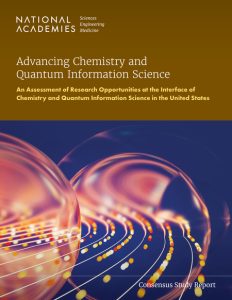 (June 8, 2023) A new report from the National Academies, with support from DOE and NSF, looks at the promise of using chemistry to push past current limits of QIS, and how QIS, in turn, can solve problems in chemistry. In particular, well-designed molecular qubits could open a new class of memory storage that would revolutionize computing, strengthen encryption, and enhance quantum sensing, among other applications. The report identifies opportunities in three areas of QIS and chemistry research; (1) design and synthesis of molecular qubit systems; (2) measurement and control of molecular quantum systems; and (3) experimental and computational approaches for scaling qubit design and function. The report details targeted research priorities in each area to advance the field in the near future.
Download the report at https://nap.nationalacademies.org/catalog/26850/advancing-chemistry-and-quantum-information-science-an-assessment-of-research.
Read the report highlights at https://nap.nationalacademies.org/resource/26850/QIS_Highlights.pdf.